About Nautical Bowls
We know it is difficult to find a quick and healthy meal. At Nautical Bowls, we combine fresh, superfood smoothie bowls and an uplifting atmosphere, so everyone can live a fruitful life- literally!

Our Story
Bryant, Rachel, Oliver & Raelyn Amundson
We (Bryant & Rachel) were married in 2016, started Nautical Bowls in May of 2018 at 24 years old- two golden retrievers, new house, baby boy due 3 months into being open…we tend to live by "the crazier, the better!" We are now 26, have 2 kids (Oliver & Raelyn- want 5 more), a food truck, and 2 Nautical Bowls locations (want 1,000 more)…DREAM BIG, right?!
We started Nautical Bowls because since we were married, we knew we wanted to start a business together, so we chose one where we had no other competition in Minnesota! But really- we spent lots of time in Southern California (where Rachel went to college), eating acai bowls at various spots across California, and we'd say "Man, Minnesota really needs a place like this"… so here we are! Rachel: DOER, Bryant: DREAMER- together we will do our dreams!
We are an extremely active family who really values their health, so we knew our business had to model the same values. We also never wanted to have to wear anything other than our running/athletic attire, so that's a bonus! Our slogan, "Super Foods | Super Life" says it all! Fuel right, feel right. Nautical Bowls is a place where we can put our passion for healthy eating, healthy relationships, and adventurous living to work. A place where families can come and feel energized by the food but also by the people they encounter.
This business has taken us on an incredible journey and we give ALL of the credit to the Lord. This is honestly His business- we're just the handymen doing the work and following where He says to go! "You do the work, I'll flood the doors" has been His promise. We know God will bless Nautical Bowls and take us places we never could have even imagined, because He already has and will continue to do so, as we remain faithful. Most people might say not to add a blurb about your faith in your public business messages, but it is truly the foundation of this company- leaving it out wouldn't make sense!
Nautical Bowls has been a lot of hard work but A LOT of fun. We've enjoyed the ride, even while working 60+ hour weeks. We hold 4 F's very closely: Faith, Family, Friends, & Fun. We prioritize those 4 things in all we do.
Nautical Bowls is a crazy adventure- come aboard and own a franchise! (link to our franchise page there)
Leadership
We are a team of fun, hardworking individuals who are passionate about living life to the fullest and fueling our bodies right in order to do it! We want the same for every customer!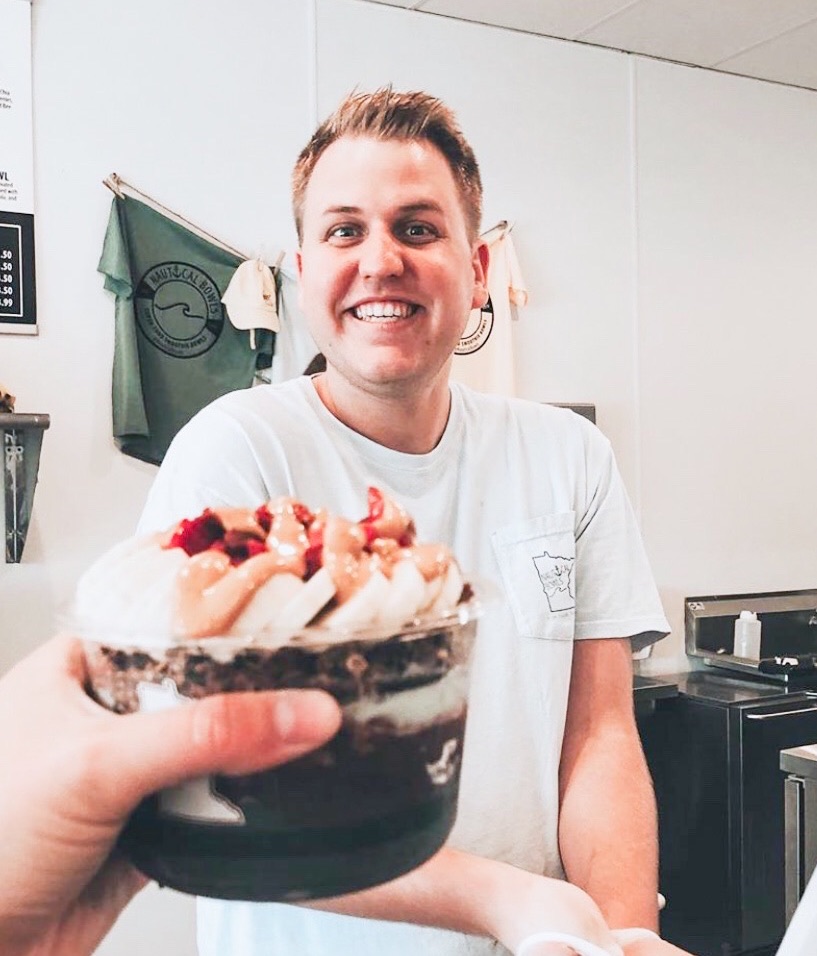 Luke Distad
Operations Manager
Tori Beske
Catering & Events Coordinator